Bitcoin mining could be much faster carbon neutral and even CO2 negative than most people think. Well-respected on-chain analyst Willy Woo remarked via Twitter that the BTC network is on track to become carbon negative, with 6% of miner CO2 already being offset by methane capture mining.
According to Woo, the transformation is poised to take a significant leap, as enterprises like CH4 Capital, led by ESG analyst Daniel Batten, take a front-row seat in this green revolution. Batten's firm intends to inject $50 million into methane capture mining over the next year, potentially increasing the mitigation figure to 17%.
Woo estimates that an investment of around $450 million could fully offset the carbon footprint of Bitcoin mining, turning the sector carbon negative. Woo shared the newly created chart and stated:
~$450m of investment would bring it to 100%, and carbon negative thereafter. This will happen sooner than you think – methane mitigation mining is a profitable business.
The Path To CO2 Negativity For Bitcoin
In a recent series of tweets, Batten responded to apprehensions concerning Bitcoin's future emissions by stating, "This chart says in one image: fears about Bitcoin future emissions are ungrounded". He cites the increasing migration of miners to off-grid renewable energy sources and greener grids as the key factors behind BTC's diminishing emissions despite its growing user base, price, and hash power.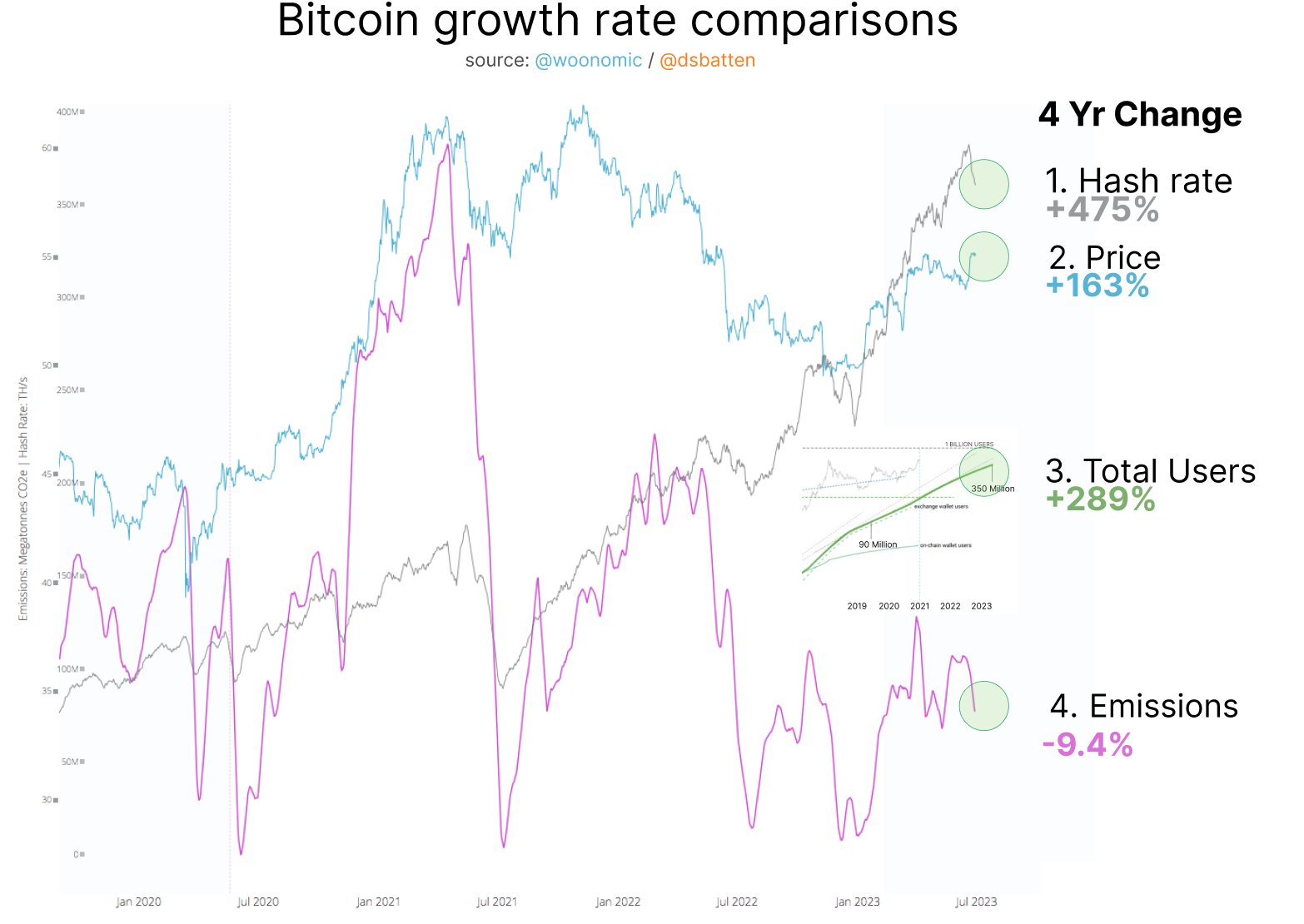 Moreover, Batten recently announced the launch of the CH4Capital Landfill Gas BTC Mining accelerator, a pioneering initiative that invites eight mining companies committed to transforming environmental pollutants like vented methane into a source of power for the future of finance.
During a detailed revelation about the CH4 Capital accelerator, Batten explained, "Did you know that a single mid-sized landfill using its gas to generate power for Bitcoin mining can mitigate 1Mt CO2e/yr? 35 of these landfills, and the Bitcoin network will mitigate more emissions than it (indirectly) creates."
Batten further indicated that the accelerator is inviting applications from both seasoned commercial miners and newcomers to BTC mining with solid operational skills and energy infrastructure experience. On August 1, the accelerator kicked off with "eight Bitcoin mining companies all committed to turning an environmental pollutant (vented methane) into a source of power for the future of finance."
This revolutionary approach to BTC mining is set to change the game in the global cryptocurrency landscape. Batten, in an interview with Forbes, expressed confidence that the mitigation of vented methane from landfills for mining could reduce more emissions than its energy sources produce by the end of 2024.
While the mining industry has been marred with criticism about its carbon footprint, the progressive measures adopted by industry leaders like Woo and Batten hold the potential to turn the tide. Their determined pursuit of green initiatives promises a future where Bitcoin not only generates wealth but also contributes to a sustainable and cleaner planet.
And the knowledge is also slowly arriving in politics, among scientists and economic giants. Recently, MIT published an extensive study on Bitcoin mining and its potential to benefit the planet. Just a few days ago, auditing giant KPMG joined in, publishing it's own research paper.
At press time, BTC traded at $29,075.
Featured image from iStock, chart from TradingView.com