Data shows the Bitcoin shorts that had amassed after the recent crash have now been squeezed following the recovery in the asset's price.
Bitcoin Shorts Take Beating As Price Shows Sharp Rebound
According to data from the on-chain analytics firm Santiment, the funding rate on Binance had become deeply negative after the crash. The "funding rate" here refers to the number of periodic fees that the perpetual contract traders are exchanging with each other.
When the value of this metric is positive, it means that the long traders are paying a premium to the short investors in order to hold onto their positions right now. Such a trend implies that bullish sentiment is held by the majority currently.
On the other hand, negative values of the indicator suggest that a bearish sentiment is more dominant in the market at the moment, as the shorts are paying a fee to the longs.
Now, here is a chart that shows the trend in the Bitcoin perpetual contract funding rate on the cryptocurrency exchange Binance over the past month or so: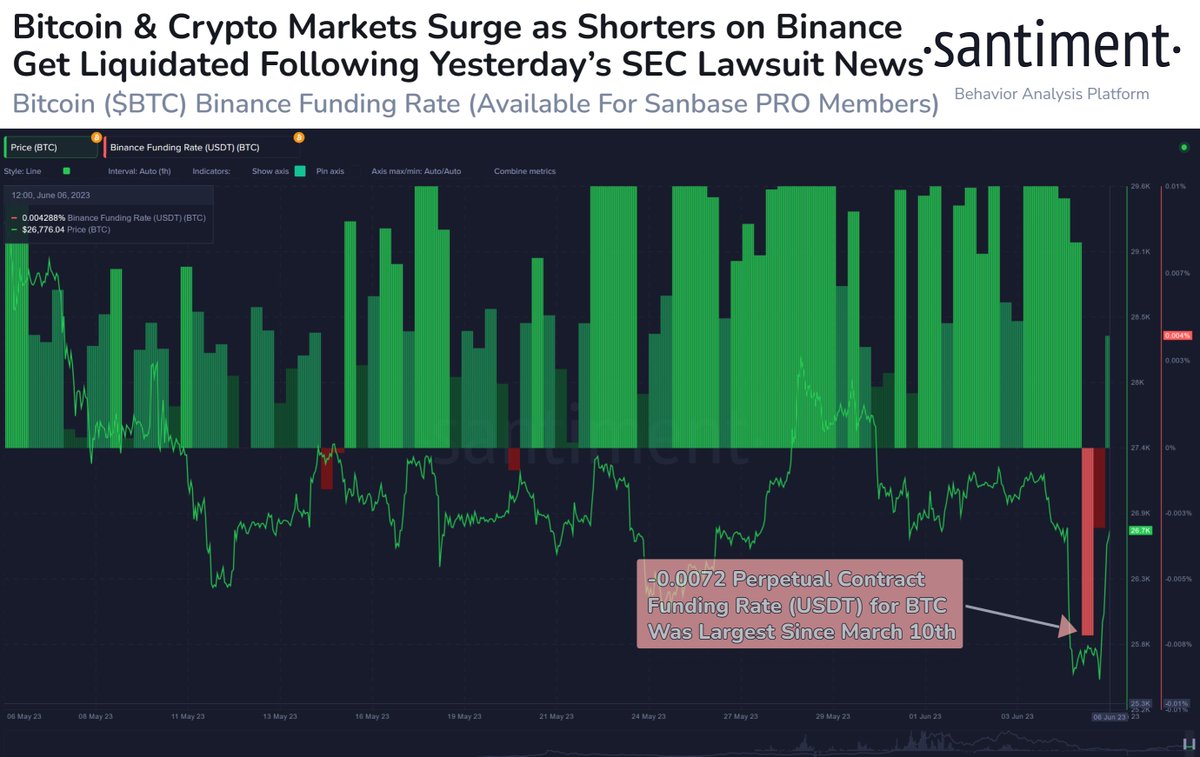 The value of the metric seems to have taken a plunge in recent days | Source: Santiment on Twitter
As displayed in the above graph, the perpetual contract funding rate for Bitcoin on Binance had been at positive values during most of the past month, meaning that bullish sentiment was being held by the majority of the investors.
Following the crash caused by the news of SEC suing Binance, though, the indicator's value very quickly plunged down and hit some deep red values. During this price plunge, a huge amount of long contracts were liquidated.
Events, where such a mass amount of liquidation occurs, are called "squeezes." Naturally, the leverage flush during the crash was an example of a "long squeeze," as the extreme majority of the contracts involved in it were longs.
With the bullish sentiment being cleared out in the recent long squeeze, the funding rate took a plunge. It would appear that the traders then became eager to start betting on the price decline to extend further, leading to the indicator's value becoming very negative.
At their peak, these red funding rates had hit the highest value since 10 March 2023. Back then in March, the metric had assumed sharp negative values after the asset's value had observed a plummet below the $20,000 level.
After the funding rates had become deep red, though, a short squeeze took place in the market as the price sharply recovered. Something similar has also looked to have taken place this time as well, as Bitcoin has once again sharply recovered.
The perpetual contract funding rates on Binance have also naturally become positive again, suggesting that the investors who had prematurely shorted the asset have suffered liquidation.
BTC Price
At the time of writing, Bitcoin is trading around $26,800, down 1% in the last week.
BTC has surged during the past day or so | Source: BTCUSD on TradingView
Featured image from Michael Förtsch on Unsplash.com, charts from TradingView.com, Santiment.net