Worldcoin, a well-known cryptocurrency project, has been the subject of a detailed investigation by the Argentinean Agency for Access to Public Information (AAIP). This action is a part of a larger trend in which other nations around the world are looking into the project's operations.
The AAIP's study is primarily concerned with thoroughly assessing the data security procedures put in place by Worldcoin. The primary goal of the AAIP is to protect user privacy within Argentina's boundaries.
The controversy surrounding Worldcoin's practice of requesting iris scans from people in exchange for tokens has brought attention to this case. Numerous locations in Buenos Aires City and several regions have recorded these events.
Worldcoin's Legal Obligations
Organizations like Worldcoin are required by law to register with the AAIP in compliance with the rules. In addition, they must give a clear explanation of their data processing procedures, explain why sensitive data is being collected, and state how long that data will be kept on file.
Stringent information regarding the security procedures in place to protect personal data is also required by the regulations. The AAIP's examination is a proactive move to evaluate Worldcoin's assertions that it complies with relevant data protection legislation, such as Argentina's Personal Data Protection Act.
With a remarkable total of over 2 million account sign-ups, Worldcoin's token project, which debuted in July, attracted considerable attention. However, the project's data collection techniques generated a great deal of debate, which prompted regulatory organizations in many nations to initiate inquiries into the project's adherence to privacy laws.
WLDUSDT trading at $1.679 on the daily chart: TradingView.com
Sam Altman, a co-founder of the Worldcoin undertaking, has stated publicly that the organization's lofty goal is to register 2 billion people. However, the project has faced controversy in a number of nations because of its intrusive requests for personal information, particularly the contentious practice of iris scanning for identification verification.
Growing Concerns Regarding Worldcoin
The case in the South American country is just one among several ongoing investigations into the operations of the Worldcoin Foundation. The foundation's data treatment procedures have also drawn criticism from regulatory organizations in France and Bavaria.
The project has ceased its verification work in Kenya since August 2, which has added to the initiative's difficulties. The situation escalated on August 6, when Kenyan police stormed Worldcoin offices, confiscating devices used for storing users' data.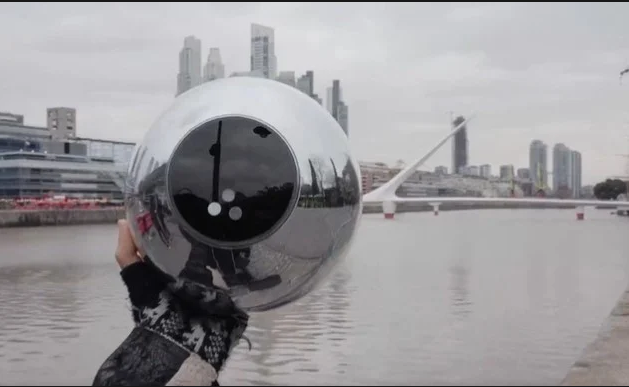 A Worldcoin iris-scanning orb. Source: The Block
Naturally, these changes have had a significant influence on the token's price, which is currently trading at $1.69. According to the most recent on-chain data, this represents a 6.6% decrease over the previous 24 hours.
The AAIP's probe is consistent with the rising understanding among international regulators that protecting user privacy is crucial, especially when dealing with sensitive information like biometric data.
The Worldcoin system is still in its infancy, despite undergoing a clampdown from several countries. In the face of challenges caused by these legislative restrictions, the project's adoption in other areas may help to support its expansion in the near future.
Featured image from Crypto News